Silent Auction
Bid in the Silent Auction and Sign Up for Count Me In Parties
February 25th - March 5th

Bidding starts at 5:00 p.m. on February 25th and is open to everyone!
Our auction items were made possible by the generosity of the School of St. Mary families, as well as our wonderful parishioners, alumni, teachers, staff, and Lake Forest community friends. Thank you to everyone for your incredible contributions and support!
---
Please join us for the School of St. Mary Annual Crusader Gala!
School of St. Mary Annual Crusader Gala:
Sparkle in the Northwoods

Saturday, March 4, 2023 - 6:00-11:00 p.m.
The Shanty, Wadsworth
(about 20 minutes north of the UGC and PGC)
Cocktail Attire
The Annual Crusader Gala is a long-standing school tradition for school and parish families to support the Crusader Annual Fund with their generous donations that help ensure our students, teachers, and faculty have the resources they need To Learn. To Serve. To Lead.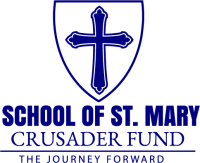 The annual Gala helps the School of St. Mary thrive by supporting:
Exceptional academics
Technology, tools, and resources for every child and in every classroom
Opportunities for learning outside the classroom through athletics, the arts, leadership development, and spiritual growth
Financial aid to help Crusader families
Competitive salaries, benefits, and ongoing professional development for our dedicated and caring faculty and staff