On Aug. 2, 2021, the Illinois Department of Public Health (IDPH) and the Illinois State Board of Education (ISBE) updated their COVID-19 School Guidance and FAQs to reflect the recently updated recommendations for schools from the Centers for Disease Control (CDC). The Lake County Health Department (LCHD) also announced on July 31, 2021, that Lake County is experiencing "substantial" community transmission per the CDC data tracker. And, at the Aug. 4 media conference, Governor Pritzker announced that all Illinois pre-k - 12 schools must follow indoor masking regardless of vaccination status. The Office of Catholic Schools sent
the following letter
to school families around 2 p.m. on Friday, August 6, about the updated Back to School 2021/22 Framework posted
on its website
on Thursday, August 5.
Given these updates, the School of St. Mary will have the following mitigation measures in place:

Masking
According to the State of Illinois mandate, masks will be required for students, teachers, and staff, regardless of vaccination status, in all schools and other archdiocese facilities to start the school year. No mask usage outside except for busing.
Mesh masks and masks with holes are not permissible.
Well-fitting masks featuring two or more layers of fabric and an adjustable nose wire are required.
Reusable cloth masks, disposable masks, and Kn95s (for children) all fit this description. Experience has shown that for most, reusable masks typically fit better than disposable child-size masks.
Wellness Checks
No wellness checks, staggered drop-off/pick-up schedules, or dedicated entrance/exit doors.
Upon arrival, children sanitize their hands. Sanitize hands upon arrival in the classroom and throughout the day as good hygiene practice.
Note: instead of sending students to the office, the staff member will contact the office, and the nurse or office staff will go to the student.
Visitor Information
The School of St. Mary is looking forward to welcoming visitors back to our campus this school year. To enter the campus, you will need to follow all current school COVID guidelines:
Visitors must wear masks in the building, regardless of their vaccination status.
Do not come to the School of St. Mary if you feel ill, have a fever, or are experiencing any COVID symptoms.
Complete an online health screening before arrival at the School of St. Mary

Health Procedures & Vaccines
Students/teachers/staff who experience illness or symptoms MUST stay home.
COVID-19 cases are to be reported via the Infection School Protocol Form.
We will follow prevailing local health department guidelines concerning quarantines.
Vaccines are optional for all. We do not require that anyone gets vaccinated (but it is encouraged). However, vaccines do exempt someone from having to quarantine if the individual is a close contact. But, we must have proof that the person is vaccinated not to have to quarantine. Submit your students' vaccine information
at this link
.
What if someone in my house has COVID?
If a household member tests positive for COVID, all family members must quarantine for ten days from the date of the positive test.
Do we need to quarantine before school starts?
The Office of Catholic Schools follows the
City of Chicago Travel Advisory
for all schools, located in Chicago, Lake County, of Cook County.
Domestic Travel
Fully vaccinated students/teachers/staff do not need post-travel COVID-19 testing or self-quarantines as long as they are not symptomatic and provide proof of vaccination.

Unvaccinated students/teachers/staff must follow the prevailing post-travel quarantine recommendations when traveling to Orange States. This currently means a 10-day quarantine OR proof of a negative test no earlier than 72 hours prior to returning to Chicago (or anytime post-return, though an individual must quarantine until a negative test result is received). A negative test = no quarantine required.
International Travel
The CDC currently requires a negative COVID-19 test or proof of recovery to board a plane to the United States. Because of this negative test, there is no required quarantine upon arrival, regardless of vaccination status.
E-Learning
There is no expectation for virtual programming. All instruction will be except for extraordinary exceptions, which will be handled on a case by case basis. The AOC has determined that simultaneous instruction (both in-person and full remote) will not occur during the 2021-2022 school year.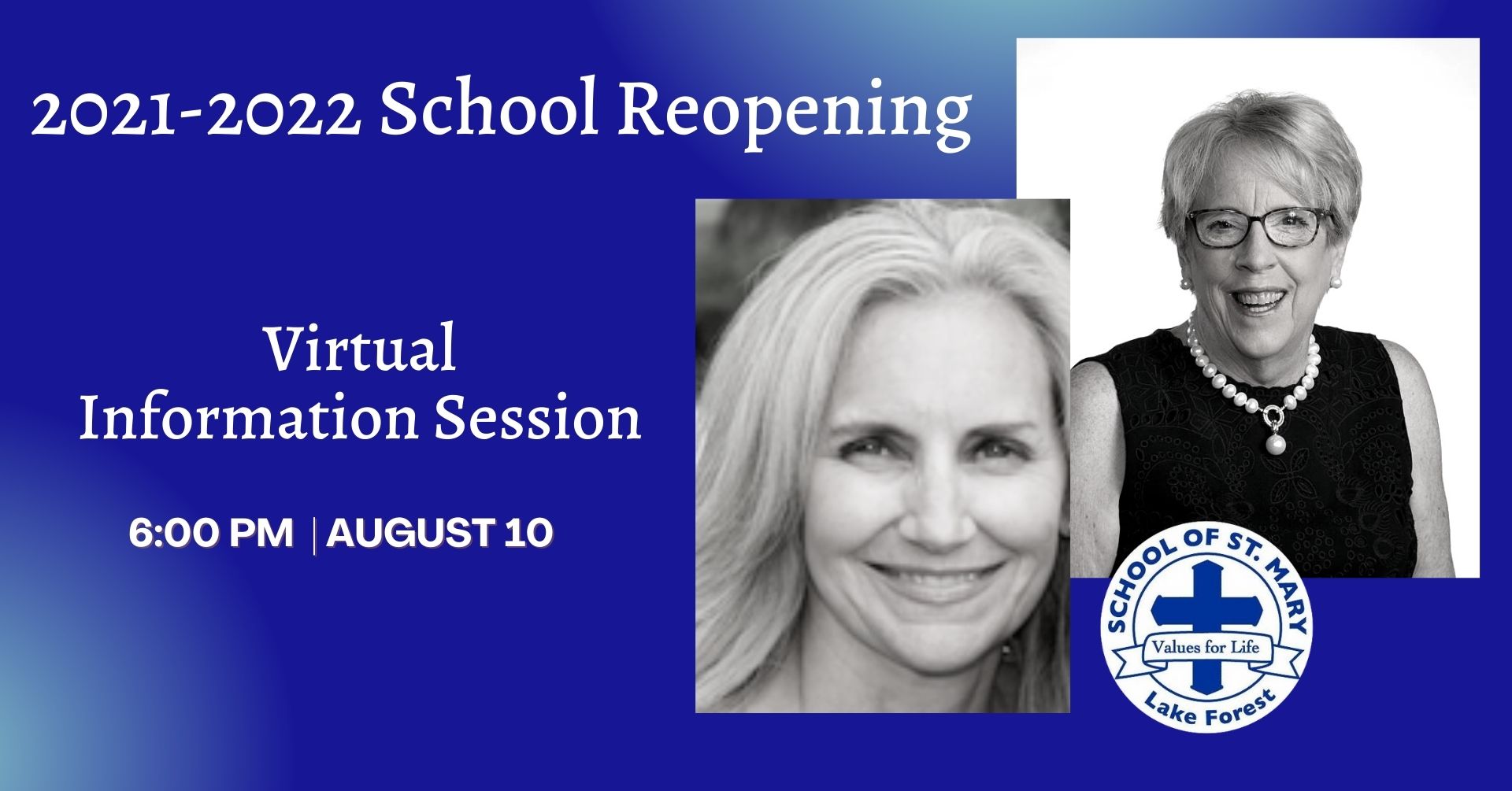 Reopening Information Session
The School of St. Mary held a virtual parent information session on Tuesday, Aug 10, 2021. You can find the information from that session below:
Additional Resources:
Prevention Tips
Wash your hands with soap and water for 20 seconds.

If soap and water are not available, use an alcohol-based hand sanitizer.

Wipe down surfaces regularly with disinfectant wipes.
Avoid touching your face, especially your eyes, nose, and mouth.
Elbow bump instead of shaking hands.
Cover your cough or sneeze with a tissue and throw it away immediately.
Do not send your student to school if they are sick.

Absences due to illness, including fever-related absences, will be recorded as an Excused Absence without a doctor's note. Teachers will work with students to create a plan to make up missed work.

Per our local authorities, students have been recommended to stay home until they are fever-free for 48 hours.
If your student has a combination of fever, cough, and shortness of breath, contact your doctor.

As recommended by the Centers for Disease Control (CDC), if you think you have been exposed to COVID-19 and develop a fever and symptoms of respiratory illness, such as cough or difficulty breathing, call your healthcare provider immediately.
Wearing a Mask
Wear a mask that covers your nose and mouth
Wear a mask correctly for maximum protection
Don't put the mask around your neck or on your forehead
Don't touch the mask, and, if you do, wash your hands or use hand sanitizer to disinfect​
Videos on Mask Wearing for Kids:
The safety and well-being of all students and school employees remain the top priority of the School of St. Mary and the Archdiocese of Chicago. The COVID-19 pandemic remains unpredictable and fluid. In addition to public health agencies, the Archdiocese of Chicago has a team of medical professionals advising them on all their guidance. They are monitoring the situation and will modify requirements during the school year as conditions, mandates, and guidance change.
This is the operating framework at this time.
Questions?
If you have any questions about this information, don't hesitate to contact Mrs. Cindy Pacewicz, School Nurse, when school is in session at (847) 295-4856.
You may also contact Principal Dr. Julie Brua at (847) 582-2526 or Assistant Principal Mrs. Kathy Thompson at (847) 295-4833.